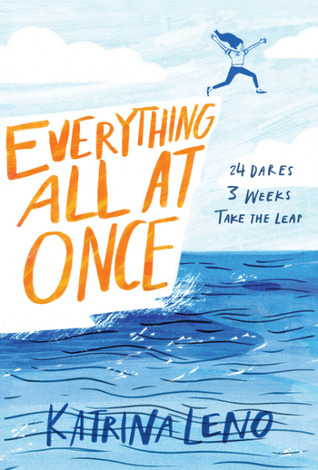 Everything All At Once by Katrina Leno

Summary:
Aunt Helen wasn't a typical aunt. She was the author of the best–selling Alvin Hatter series, about siblings who discover the elixir of immortality. Her writing inspired a generation of readers.
In her will, she leaves one last writing project—just for Lottie Reaves. It's a series of letters, each containing mysterious instructions designed to push Lottie out of her comfort zone. Soon, Lottie's trying some writing of her own, leaping off cliffs, and even falling for a boy she's only just met. Then the letters reveal an extraordinary secret about the inspiration for the Alvin Hatter series. Lottie finds herself faced with an impossible choice, one that will force her to confront her greatest fear once and for all (Goodreads).
Thoughts:
This story was an emotional rollercoaster for me personally. Many parts left me in tears and triggered me to contemplate the inevitability of death. The style in which the author introduced Aunt Helen's letters and integrated excerpts from Aunt Helen's Alvin Hatter series into the plotline was quite genius. The reader is sucked into the life of Lottie Reaves and her family's method of coping with their family member's death. The story touches on different subjects, regarding love, immortality, and adventure, and would be a good read for anyone who wants a good page turner.
Reviewed by Allison C.