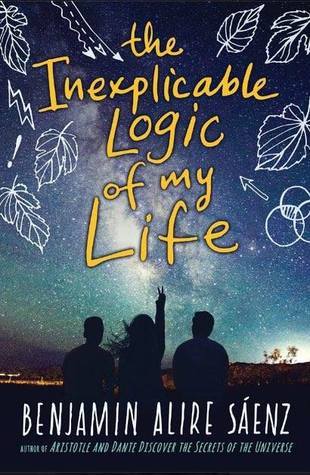 The Inexplicable Logic of my Life by Benjamin Alire Sáenz

Summary:
Everything is about to change. Until this moment, Sal has always been certain of his place with his adoptive gay father and their loving Mexican-American family. But now his own history unexpectedly haunts him, and life-altering events force him and his best friend, Samantha, to confront issues of faith, loss, and grief. Suddenly Sal is throwing punches, questioning everything, and discovering that he no longer knows who he really is—but if Sal's not who he thought he was, who is he? (Goodreads)
Thoughts:
Having already read the beautiful Aristotle and Dante Discover the Secrets of the Universe, I picked up this book for the author. Needless to say, I was not disappointed; Sáenz's latest novel is a masterpiece in its simplicity. His characters are vivid and dynamic, and it was a pleasure to watch them grow, make mistakes, learn, and love. Salvador's relationships, particularly with his father, Samantha, and his grandmother, are beautiful depictions of different kinds of love. Although this book has its fair share of tragedies, Sáenz's tone and the way he develops the plot make it so that the reader is never overwhelmed, and even the moments of sadness are filled with hope.
I would definitely recommend this novel for its emotional appeal and well-rounded characters. Each chapter is as enjoyable as the next, and I'm sure you'll be as enthralled as I was.
Reviewed by Carolina R.