Want by Cindy Pon
Summary:
Do you want to live in a smog-ridden world where the longevity of your life is dictated by a corrupt corporation? This is the reality for Jason Zhou where the rich lead comfortable lifestyles while the poor struggle to survive on the streets. The rich are protected from diseases by special suits that are made by the all-powerful Jin Corporation, and Jason has had enough. In order to infiltrate Jin Corp, he must pose as one of the elites he despises and befriends the daughter of Jin Corp's CEO.
Thoughts:
When I initially learned of a YA novel set in Taipei, my thoughts were as follows: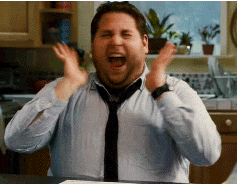 This is one of the first YA stories I've read that is set in my home country. Being Taiwanese myself, I couldn't believe that there was FINALLY something like this! So THANK YOU to Simon Pulse for publishing an amazing book like this, and for allowing a Taiwanese author to shine in the wonderful world of YA works. My teenage self would have loved to read something like this back in the day.
Now after all the initial fangirling about a story set in Taiwan, I've had some time to process my thoughts clearly.
I love the fact that we're introduced to famous locations like the Shilin Night Market, Yangmingshan, and Ximending right away, and it's absolutely amazing to see a story set in these places. With a bit of Mandarin mixed in there and the mention of Jay Chou (my favourite angsty Taiwanese popstar), I felt right at home. Cindy Pon is so good at incorporating Taiwanese culture into the setting of Want, and I felt a nostalgic thrill with every mention of a place or food dish found exclusively in my home country.
Pon did such an accurate job with her descriptions that you become completely immersed in this world. I really appreciated the fine details; something as simple as walking past a 7-Eleven and feeling the air con blast through the humidity reads all too real.  The fact that the horrible pollution is one of the main issues of futuristic Taipei also isn't all that far-fetched from today's Taipei (there are other parts of Taiwan that are safe from the pollution, however, it might not be clean for long if we keep adding to it).
Want is a fast-paced Science Fiction/Dystopia and the excitement begins right from the start of the novel. The only problem I had with it was that the romance seemed to sprout immediately between Daiyu and Jason. Talk about Stockholm Syndrome much? It wasn't believable at this point and I was a bit weary when I read it; however, Pon changed my mind later and Daiyu became one of my favourite characters. Speaking of characters, I'd like to give Pon a standing ovation for creating an extremely diverse cast of POC characters. The sheer number of Asians (yes, I know it's set in Taiwan but c'mon) represented in Want is amazing, and you don't come across this often in YA. This shows progress compared to the sadly low number of Asian characters in YA Literature back when I was in high school. I can only really remember Cho Chang from Harry Potter, and even then she was merely his love interest.
One reoccurring thought I had while I read Want is that this would make such an entertaining Taiwanese drama. It has the comedy, the romance, and the thrill seen in the good TV shows. It would be something I'd binge watch for sure.
Now my favourite character has to be Daiyu and my initial impression of her was rendered invalid. You think she's some airy rich girl who gets what she wants because she's the daughter of a powerful CEO, but she ends up showing an astonishing amount of depth and personality that her character becomes the heroine of the story. Her strength and tenacity are admirable and she would be a great female character for girls to look up to (again minus the whole Stockholm Syndrome at the start because that still does not make sense to me). Daiyu is strong and she takes matters into her own hands, and despite readers not being told this straight from the author, you can notice clues that lead up to the big reveal at the end. She was the biggest surprise because I really was expecting a one-dimensional love interest. In fact, a majority of the female characters, mainly Lingyi and Iris, are total badasses.
Jason is a well-written character as well, and Pon again does an excellent job creating a complex character. His internal conflict with living in luxury when all he has known were struggles and hardships, and then feeling disgusted with himself for enjoying an easier lifestyle was done fantastically. He's compassionate but always has his goals in mind and doesn't get fully distracted from his mission.
At first, I thought this was a stand-alone story, but after learning that there's a sequel on its way, I am beyond excited to read their next adventure titled Ruse. 2019 can't come fast enough and I hope it gets finished sooner!
Reviewed by Ms. Lee.